Roxy und ihr Wunderteam, Operetta by Paul Abraham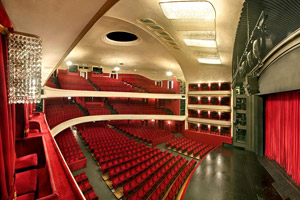 One hardly finds a common thread between opera and football, but Paul Abraham has done it splendidly in his delightful operetta Roxy und ihr Wunderteam. A funny and engaging story centred on a young, witty, fiercely independent heroine, the musical comedy does not miss a beat with audiences around the world. Ever since its debut at Theater an der Wien in 1937, Roxy and her dream team have become a staple in operetta seasons around Europe. With an engaging story and music full of Austrian and Hungarian melodies, the clever music-and-sports satire is bound to entertain.
Meet Roxy, the niece of a Scottish producer of mixed pickles. Instead of walking down the aisle and offering her hand in marriage, she leaves her betrothed standing at the altar and goes following the Hungarian national football team. At their training camp on the famous Lake Balaton in Hungary, sparks fly between Roxy and the handsome centre forward Gjurka. Apart from the budding romance, there is also an important sports battle to be fought: Hungary is playing England in a crucial game. When a group of girls from the local boarding school cross paths with the football players, however, keeping eyes on the prize becomes increasingly difficult. Will Roxy's big gamble to leave her old life behind and follow Gjurka and his boys to Balaton pay off? And how will the Hungarian football team balance so much pleasant distraction with the important game that is upon them?
Paul Abraham's Roxy und ihr Wunderteam is a musical comedy in the genre's best traditions with a few innovative twists. It was composed as part of a significant operetta revival that took place in the 1920s and 1930s. The clever dramatic device of pairing musical theatre with sports all but ensured Roxy und ihr Wunderteam would be a lasting success, and the international elements in the score and the plot keep this Viennese operetta fresh and accessible to this day. On the stage of Volksoper Wien, it feels right at home.