West Side Story, Musical by Leonard Bernstein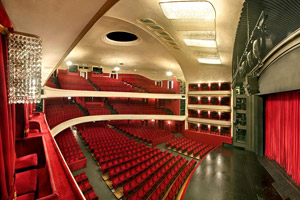 The tragedy of Romeo and Juliet is all but universally known and loved. It was no wonder that director and choreographer Jerome Robbins, lyricist Stephen Sondheim, playwright Arthur Laurents, and composer Leonard Bernstein found immense success when they took the classic plot of young love between innocent youths from two rival factions and crafted a wonderful and moving musical around it. This is West Side Story, a roller coaster drama about Tony and Maria, two lovers from two rival gangs, and the tragic consequences of their romance. The musical premiered on 26 September 1957 at the Winter Garden Theatre on Broadway in New York City and has enjoyed countless revivals and adaptations around the globe. Volkskoper Wien is offering a faithful recreation of the stirring original this season.
West Side Story's dynamic action revolves around two rival gangs, the predominantly white American Jets and the Sharks, of Puerto Rican descent, and their battle for supremacy in their common neighbourhood in New York City's upper West Side. When Tony, a Jet, and Maria, sister of the Sharks' leader Bernardo, fall in love, all sorts of complications arise. After a gang rumble goes terribly wrong, Bernardo stabs the Jets' commander Riff fatally, prompting Tony to counterattack and in turn kills Bernardo himself. As the two lovers scramble to make their escape, the Jets and the Sharks each plot vengeance for their murdered leaders. The tension rises to a breaking point when Chino, a tenacious Shark, pulls out a gun. Will this modern Romeo and Juliet story have a similarly tragic end?
The gripping action of West Side Story is perfectly matched by the colourful and exciting score by Leonard Bernstein. To highlight the cultural juxtaposition of the Jets and the Sharks, the composer employed typical musical styles and motifs from the American and Puerto Rican tradition, respectively. Many of the work's ensemble numbers, such as 'I Feel Pretty' or 'America', have long made it into the mainstream, as have several solo numbers and duets like 'Maria' or 'Tonight'. At Vienna's Volksoper, the blood feud between Jets and Sharks lives again.