Sweet Charity, Musical by Cy Coleman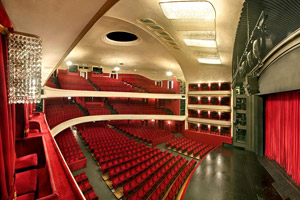 The classic musical Sweet Charity is a tale that has endeared and amused audiences since its successful Broadway premiere in 1966, choreographed and directed by Bob Fosse. Armed with Cy Coleman's engaging score and the witty lyrics of Dorothy Fields, the performance still feels fresh and dynamic after over half a century on the world stages. This season, Volksoper Wien puts on a revival of Sweet Charity in German that has all the charms of the American original combined with the refined Viennese artistic touch.
Sweet Charity was inspired by the classic Italian drama film Nights of Cabiria by the great Federico Fellini. Unlike the movie's main character, a prostitute, the musical's heroine Charity is a dancer for hire in New York City. As hinted by the heart tattooed on her shoulder, she is an innocent and caring being full of love and compassion. Unfortunately, fate seems to be unkind. On the night her boyfriend Charlie steals her bag and pushes her into a lake, she has a chance encounter with the movie star Vittorio Vidal whose girlfriend Ursula has just thrown a jealous fit. Exhausted and hungry, she passes out in his arms and wakes up in his luxurious apartment. Before her star romance goes any further, however, Ursula returns and Vittorio shoves poor Charity into a closet for the rest of the night. Fate, however, has more in store for the young dancer: A faulty elevator brings Charity together with the shy and kind accountant Oscar Lindquist, and the spark between them is undeniable. But will he be able to accept what she does for a living, or is there another cold swim in the lake in Charity's future?
Sweet Charity not only charms with its relatable romantic stories; Cy Coleman's song-writing craft is also in full swing here. Propelled by hits like 'Big Spender', 'I'm A Brass Band', and 'If My Friends Could See Me Now', the musical was a high point in Coleman's popular career for good reason. The German production at Volksoper Wien retains the energy and appeal of the Broadway original and invites you into the dazzling world of Charity Hope Valentine, her dances and heartaches.