Gypsy, Musical by Jule Styne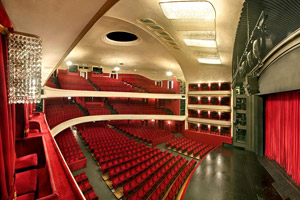 Gypsy, one of the most celebrated musicals of all time, is coming to Vienna. Based on the burlesque artiste Gypsy Rose Lee's 1957 autobiography, Gypsy: A Memoir, the show opened at the Broadway Theater in New York on 21 May 1959 and made more than seven hundred appearances in its first run. It has enjoyed several revivals and in 1962 was turned into the hit film of the same name starring Natalie Wood.
Gypsy is about the blind ambition that makes people seek fame and fortune on the stage. But its message goes further. Gypsy is a warning to us all that we should not live our lives through our children.
In the story, Rose dreams of success on the stage for her two young daughters, June and Louise. June is more confident and extrovert than Louise, but both are less than enthusiastic about the career their mother has mapped out for them.
With the girls now a little older, Rose meets Herbie who becomes their manager. The act gets a makeover, but is not really updated. Vaudeville, their stock-in-trade, is on the wane too. The girls hope that Rose and Herbie will get married, putting an end to the relentless rounds of touring. But Rose is too fixated on her pursuit of stardom.
When Rose passes up on a chance for June to get proper acting lessons, June decides enough is enough and runs off with a boy called Tulsa. Louise, the more reluctant performer, is shoved centre stage. Down on their luck, Herbie secures a two-week, make-or-break booking. But, as they later discover, it's at a burlesque house. Louise unexpectedly becomes a star and Rose finds that what she had always dreamed off now means nothing now that her daughter doesn't need her.
Gypsy was created by many of the team who two years' earlier had brought West Side Story to the stage. Arthur Laurents wrote the book, Stephen Sondheim, the lyrics and Jerome Robbins devised the choreography. Jule Styne composed the music and, as was the case with the songs Leonard Bernstein wrote for Broadway's reworking of Romeo and Juliet, many have become standards.
Audiences at the Volksoper Wien this season will be spoilt by melodies that have become part of musical folklore, including "Let me entertain you", "Everything's coming up roses" and "You gotta have a gimmick". Gypsy, however, is not just mere entertainment; it reveals the real people, and their sadness, behind the glitz and glamour of show business.