Orpheus in the Underworld, Operetta by J. Offenbach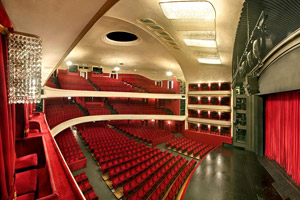 The Volksoper in Vienna revives Orpheus in the Underworld (or Orpheus in der Unterwelt in its German version), the operetta that brought instant fame to Jacques Offenbach. The master of musical comedy created his irreverent parody of the myth about Orpheus and Eurydice in the distant 1858. In its time, it was seen equally as a mockery of the popular fascination with Greek mythology and as a veiled political satire against Napoleon III and his regime.
Orpheus in the Underworld was Offenbach's first full-length 'opéra bouffon', after a string of one-act operettas in the early 1850s. Together with Hector Crémieux and with some input from Ludovic Halévy, the composer realised his vision of lambasting the Olympian gods and the mythological figures he considered unnecessarily revered. The premiere took place on 21 October 1858 at the Théâtre des Bouffes-Parisiens in Paris in French language and was a commercial success, fuelled by the performance's shock value and the widely publicised clashes between critics and the creative team.
The mythical love of Orpheus and Eurydice is as old as time. The gifted singer, son of Apollo and Calliope, finds his perfect match, but their happiness is all too short-lived as she dies by a poisonous snake bite. The grieving Orpheus descends into the Underworld to see Eurydice and uses his musical gift to convince Hades to release his beloved. In Offenbach's version, the hero is not the son of a god and a muse but a simple village fiddler who is, in fact, quite happy with his wife's demise because he has his eye on the young shepherdess Chloë. Popular opinion, however, forces him on a quest to Hades. An array of Olympian gods parades their faults and all-too-human failings as Orpheus gets deeper and deeper into this unwanted journey.
Offenbach's lively score matches the onstage action perfectly, and the attentive listener will recognise 'Galop infernal' to be the popular music of the can-can dance. Volksoper Wien now stages this 19th-century opera buffa in German, still in its full glory.