Meine Schwester und ich, Operetta by R. Benatzky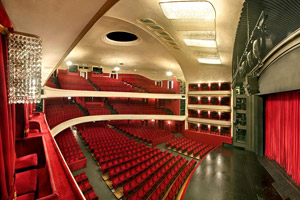 One of Vienna's brightest stars at the time, Ralph Benatzky made his name in the early 20th century as a gifted writer of entertaining revue operettas that regularly produced popular hit tunes. In 1930, he came to invent a new genre: the chamber operetta, which infused the traditional genre with cabaret nuances and amplified its humour. Meine Schwester und ich (My Sister and I) was the first work of its kind, and it ranked among Benatzky's most popular musical comedies. The Vienna Volksoper pays homage to one of the city's greatest operetta composers with a revival of this classic stage work.
Meine Schwester und ich is Ralph Benatzky at a creative peak. Apart from the music, the composer also wrote the libretto with the help of Robert Blum. They worked off the script of a popular comedy of the same name by the French authors Georges Berr and Louis Verneuil. The premiere took place on 29 March 1930 at the Theater am Gendarmenmarkt in Berlin (today's Konzerthaus Berlin). It left audiences delighted and reaffirmed Benatzky's knack for entertaining musical comedy. Decades later, Meine Schwester und ich still grabs with its slightly silly but at the same time thoroughly relatable and amusing love story.
The operetta opens in a court room where a judge presides over the divorce proceedings of Dr. Roger Fleuriot and Dolly, Princess of Saint-Labiche. In order to make his ruling, the judge asks to hear the details of the case. We find out that Roger worked for Dolly as her palace librarian in Paris. Although she was betrothed to Count Lacy at the time, they both felt a spark, but Roger's shyness prevented the relationship from going any further. When he left to take up a teaching position at the university of Nancy, Dolly quickly hatched a plan: she told him her sister works at a shoe shop there and gave him a ring and a letter to bring to her. Of course, the 'sister' was Dolly herself and their Nancy romance grew – but will it survive this deception?