Die Dubarry, Operetta by C. Millöcker / T. Mackeben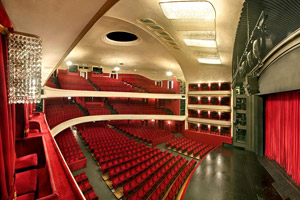 The entanglements and love triangles of the French royal court have inspired many works of art, and the operetta Die Dubarry is a shining example as to why. Set in 18th-century Paris, the intrigue- and action-filled work focuses on the life of Jeanne Bécu, the last mistress of King Louis XV of France. Thanks to her high-profile liaison with the monarch, she rose to become Countess du Barry, commonly referred to as 'Madame Dubarry'. Her fascinating life story moved Carl Millöcker to create his original operetta. Gräfin Dubarry premiered in Vienna on 31 October 1879 at the popular Theater an der Wien. About half a century later, Theo Mackeben reworked Millöcker's original into a new version, which he titled Die Dubarry and first presented at Berlin's Admiralspalast on 14 August 1931. This has become the ultimate version of the operetta, and Volksoper Wien is putting it on this season.
At the time Theo Mackeben updated the work to create Die Dubarry, the zeitgeist of operetta demanded strong female characters and bold, even anti-establishment stories. Fresh off his big success staging Bertolt Brecht's 'The Threepenny Opera', Mackeben dug deep into Millöcker's source score and the libretto by F. Zell and Richard Genée to deliver exactly that: an impressive story of female empowerment and upward mobility, with the prices it entails. Audiences get to know the simple life of the dressmaker Jeanne Bécu who is in love with the painter René Lavallery. Her life turns upside down when she starts an incendiary affair with King Louis XV and skyrockets into the French royal court. The road to the top of the social ladder is rocky and requires sacrifices - will Madame Dubarry be able to pay this high price?
Die Dubarry is a great study in character development and challenging the predominant societal norms. Social and political themes mix into the romantic relations and personal choices of the heroine to deliver an operetta experience that audiences at Volksoper Vienna are sure to remember.