Der Zigeunerbaron, Operetta by J. Strauss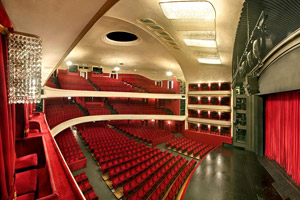 Johann Strauss II is inextricably linked to Vienna. His numerous waltzes and other dance compositions have become part of the city's DNA, but their popularity should not obscure the fact that Strauss was also a gifted composer of stage works. The Vienna Volksoper honours this talent of his with the wonderful operetta Der Zigeunerbaron this season. With a romantic and exciting storyline and Strauss's vivid scoring, this performance is pulsing with the hot rhythms of the Gypsy life.
Der Zigeunerbaron, or The Gypsy Baron in English, finds its roots in the novel Sáffi by the Hungarian writer Mór Jókai. He collaborated with librettist Ignaz Schnitzer in order to bring the story to the operetta stage. While the two authors worked tirelessly and made swift progress, Strauss was constantly impeded in his work. In 1883-84, both he and his then-wife Adele suffered health problems that took the composer away from his scores. When Schnitzer threatened to give the libretto to another composer, however, Johann Strauss finally finished the music. The premiere on 24 October 1885 at Theater an der Wien in Vienna was an enormous success. Der Zigeunerbaron would eventually become Strauss's second-most popular operetta, right behind Die Fledermaus.
The operetta, set in the late 18th century, tells the story of the young exile Sándor Bárinkay who leaves Habsburgian Austria to return home in Hungary. To his surprise, he finds the family castle in ruins, occupied by a band of Gypsies and the pig farmer Kálmán Zsupán. The new inhabitants of Bárinkay's estate proclaim him their baron. The beautiful Gypsy girl Saffi leads him to a hidden treasure in the castle. Everything is looking up for the young couple, until Count Homonay appears in search of troops for an impending war. What is the baron to do?
Despite the interruptions during the development of Der Zigeunerbaron, Johann Strauss was able to craft a remarkably authentic and engaging score. The overture, the scintillating 'Schatz-Walzer' and the polka 'Brautschau' are just a few of the many musical highlights in it.