Rigoletto, Opera by G. Verdi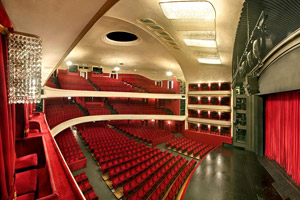 Giuseppe Verdi entered his highly acclaimed late creative period with Rigoletto, the seventeenth opera he would write and easily one of his most popular works. It contains 'La donna è mobile', one of the Maestro's greatest arias. As many of his other successful operas, Rigoletto also addresses the moral and political failings of Verdi's day. In this case, the debauchery of the ruling class and the subservience of its supporters fall in the crosshairs. The lustful Duke of Mantua regularly cuckolds his courtiers, while his court jester Rigoletto encourages him and ridiculous the dishonoured women and their husbands to add insult to injury.
The bitter and ruthless clown Rigoletto, however, harbours a secret. In the depraved environment of Mantua's court, he is raising a sweet and innocent daughter, Gilda, whom he wishes to protect from the lowly passions of his master. Unfortunately, the Duke knows no boundaries and, disguised as a student, seduces Gilda. The enraged Rigoletto plots a deadly revenge, but his anger leads him to an even greater tragedy and loss. The curse that one of the disgraced courtiers placed on both Mantua and his jester comes true.
Verdi wrote Rigoletto in collaboration with librettist Francesco Maria Piave who adapted the storyline from Victor Hugo's incendiary play Le roi s'amuse (or The King Amuses Himself). Much like the original stage work, Verdi's opera was met with fervent criticism from the royal censors who were adamantly against exposing royalty as corrupt and immoral. After intense negotiations, Verdi and Piave agreed to set the opera in the already extinct Dukedom of Mantua to avoid any direct association to the present day.
Despite the production problems, Rigoletto's premiere on 11 March 1851 at Teatro La Fenice in Venice was a triumph and became Verdi's first great success in Italy since 1847's Macbeth. The Volksoper Wien now revives this grand classic and delivers an authentic Verdi experience.