Salome, Opera by R. Strauss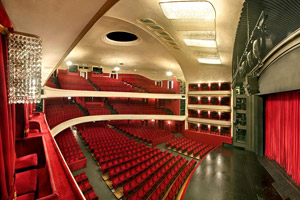 The Biblical story of John the Baptist and his death at the behest of the luscious Salome has served as inspiration for artists of many genres. Most famously, Oscar Wilde wrote the play Salomé – in French, no less! – in 1891 and transformed the main character from a capricious scoundrel into a sensual, enthralling female lead. It was Wilde's interpretation that inspired Richard Strauss to create his opera Salome. In just one act, the composer gathered the essence of the source text and put it in music that was meticulously composed and arranged for maximum effect. Salome premiered at the Königliches Opernhaus in Dresden on 9 December 1905. Puritan-minded audiences were scandalised by the main character's 'Dance of the Seven Veils', a scene originally conceived by Oscar Wilde and quite possibly the first-ever striptease performance in drama. Still, the opera proved more popular than its moralising critics and continued enjoying successful revivals. Vienna's Volksoper stages a recreation of the classic 1992 Salzburg Festival production of Salome this season.
The German libretto for Salome was the work of poet Hedwig Lachmann, who translated Wilde's French original. Richard Strauss abridged Lachmann's text and reduced the story to its essentials. Perhaps it was this decision that pushed the composer to create the powerful and evocative score that made the music do much of the storytelling. The provocative 'Dance of the Seven Veils' stands out with its oriental themes and slow-burn build-up and erotic charge.
The plot of Salome remains true to the biblical story. King Herodes is lusting over Princess Salome, his niece and simultaneously his stepdaughter after his marriage to his brother's widow, Herodias. At a banquet, Herodes asks Salome to drink, to eat, and to dance, but the young woman refuses all three. Insisting on a dance, the king promises her anything. She then performs her famous seductive routine and, as she lays naked at Herodes' feet, she makes her wish: the head of John the Baptist on a silver platter. Horrified, the king must deliver on his promise, but he is not prepared for what Salome does next. The shocking finale awaits you at Volksoper Wien this season.