Le Grand Macabre, Opera by G. Ligeti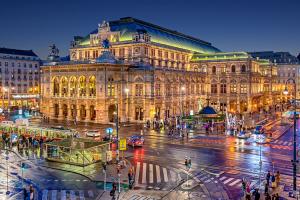 As humans go about their wicked ways and pursue their hedonistic existence on Earth, Death himself climbs up from his tomb and threatens to destroy the planet and everyone on it with the hellfire of a comet. This is the premise of Le Grand Macabre, Hungarian composer György Ligeti's only opera. Fuelled by its author's eclectic musical style, rich with popular references to beloved classical works, and simultaneously fresh and tonally ambiguous, the opera tickles the imagination and grips audiences around the world. Le Grand Macabre had its inaugural performance on 12 April 1978 at the Royal Swedish Opera in Stockholm. This season, Vienna State Opera revives an avantgarde classic.
Ligeti started composing Le Grand Macabre in 1974. The libretto, by him and Michael Maschke, was based on the play La Balade du Grand Macabre by Michel de Ghelderode. The plot follows Nekrotzar, or Death, on his quest to wipe out humanity. Happy drunks Piet the Pot and Astradamors become his servants and accompany him on his brief journey through life on Earth. The more in touch he becomes with the pleasure-seeking, depraved human race, the less effective Nekrotzar's destructive attempts turn out. In a bombastic, life-affirming finale, the opera delivers its key message: Enjoy life in the moment because you never know when your time will come.
In his score, Ligeti employed a musical language decidedly atypical of classical opera that drew on a wide variety of influences. Nods to titans, from Monteverdi, Verdi, and Rossini to Mozart, Liszt, and Stravinsky, abound. Distinct folk elements and rhythms spanning from Central and Eastern Europe to Spain and Latin America mix together with old forms like chorales, ostinatos, canons, and bourrées, blending into a sonic landscape of unmatched variety. The work is characterized by its complex rhythms, intricate harmonies, and extensive use of dissonance. Ligeti was also not shy about employing unorthodox instruments and sounds, such as the famous specially tuned car horns that start the work or the alarm clocks and doorbells that introduce Act II. Le Grand Macabre is considered a masterpiece of contemporary opera and has been praised for its innovative approach to composition, its dark humour, and its complex staging. The work's surrealistic and absurdist elements, combined with Ligeti's unique musical language, make for a truly unique and unforgettable experience at Wiener Staatsoper.