Così fan tutte, Opera by W. A. Mozart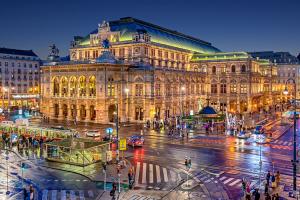 Così fan tutte could have ended up being just another bedroom farce had it not been for the brilliance of Wolfgang Amadeus Mozart and his librettist, and poet to the imperial court, Lorenzo da Ponte. Although the opera was not fully appreciated either in Mozart's lifetime or for much of the century that followed, the work has enjoyed far more success in the modern era and Così fan tutte is now seen for what it truly is: a sophisticated, albeit humorous, contemplation of just how complex the relationships between women and men can be.
Two officers, Guglielmo and Ferrando, are convinced that their lovers, Dorabella and Fiordiligi, who are sisters, would never be unfaithful to them. A wily old philosopher, Don Alfonso, thinks otherwise and challenges them to take a bet. The problem for Guglielmo and Ferrando is that not only has Don Alfonso fixed the odds by creating a scenario designed to make the sisters drop their defences; the two young men, caught up with the fun of the chase, happily play along with the deception.
To say that Mozart rescues the opera through the subtlety of his music alone would be unfair to da Ponte; rather his score so perfectly underpins the development of the plot that audiences are treated to a piece which sees two master craftsmen at their very best.
Così fan tutte was premiered at the Teutsches Nationaltheater in Vienna (now the Burgtheater, Austria's National Theatre) on 26 January 1790 but only enjoyed five outings before its first season was cut short by the death of the Holy Roman Emperor, Joseph II. Now it makes a welcome return to the city in which it was first performed at the Vienna State Opera.