La Traviata, Opera by G. Verdi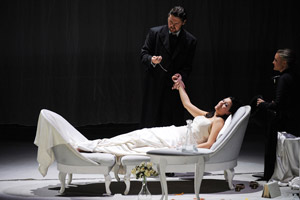 More than a century and a half after its premiere, Giuseppe Verdi's La Traviata continues to be one of the most regularly staged operas in the repertoire. Yet the opening night on 6 March 1853 at the Teatro La Fenice in Venice was a debacle: the composer was let down by the quality of the house's singers and Fanny Salvini-Donatelli, at the age of thirty-eight, was an improbable Violetta. Undeterred, Verdi revived the work, again in Venice, at the Teatro San Benedetto exactly two months later. That night was a triumph and La Traviata has never looked back.
Violetta Valéry, a Parisian courtesan, captivates all around her. Given her profession, she can barely afford to fall for one of her lovers. To her surprise, Alfredo Germont sweeps her off her feet, only for his father, Giorgio, to demand that she end her relationship with his son for the sake of his family's reputation. Heartbroken, Violetta does as Giorgio asks and provokes a torrent of abuse from Alfredo towards her. Giorgio, finding that he is more ashamed of Alfredo's behaviour than he was of his son having chosen Violetta in the first place, relents and does all he can to reunite the couple. But time is running out: Violetta, a victim of tuberculosis, is dying.
Given that Verdi was determined that his efforts should guarantee his family's financial security, the risk he took in creating La Traviata was astonishing. The idea of a consumptive prostitute being cast as a heroine was something that opera-goers would have been ill prepared for and they might have shunned La Traviata altogether. Its impact however was huge: some questioned its morality; others were overcome by the same sense of guilt felt by the Germonts. Verdi must have sensed that his opera would have a profound effect on his audiences just as the play that inspired it, Alexandre Dumas' La Dame aux Camélias, had affected him.
La Traviata is an emotional rollercoaster that challenges us to confront our attitude to love in all its guises. Those who come to enjoy La Traviata at the Volksoper Vienna will witness one of the most richly painted characters in opera; beautiful and coquettish, conflicted and selfless, Violetta is an everywoman for both Verdi's and our own times.