Zar und Zimmermann, Opera by G. A. Lortzing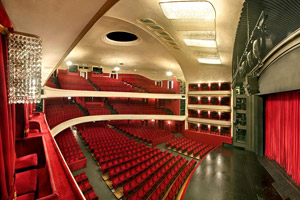 Whoever started the cruel rumour about Germans' poor sense of humour clearly was not familiar with the life and works of Gustav Albert Lortzing. If you have fallen prey to the same prejudices yourself, the Vienna Volksoper offers you a fantastic opportunity to change your mind with the maestro's comic opera Zar und Zimmermann!
As any good comedian knows, a joke must contain at least a kernel of truth to tickle the funny bone properly. Lortzing, a talented German composer, musician and librettist, took inspiration from the true story of Peter the Great's semi-incognito journey through Europe at the end of the 17th century.
The Russian monarch's agenda was to blend into Western European society and acquire precious know-how for the benefit of his empire. This is also the starting point of Zar und Zimmerman (German for "Tsar and Carpenter") which introduces us to the tsar, under the disguise of ship-builder Peter Mikhailov, working in Zaandam, a small town in North Holland.
Confusion ensues almost immediately as another carpenter, Peter Ivanov, enters the picture and complicates the plot with his desperate love for Marie Van Bett, the overprotective mayor's niece. Add to that Russian emissaries desperate to bring their tsar back from his adventure, and a perfect comedy storm forms.
Gustav Albert Lortzing's Zar und Zimmermann had its premiere at the Stadttheater in Leipzig on 22 December 1837. On top of writing and composing, Lortzing also starred as young Peter Ivanov. The performance was a hit, and a series of subsequent performances in Berlin established it as a staple in the German-speaking musical landscape.
Musically, Zar und Zimmermann is wildly entertaining. Lortzing based his innovative and dynamic score on the best traditions of the Italian opera buffa where the singers and the orchestra are in constant interaction. Watch out for the old Van Bett's 'O sancta justitia, ich möchte rasen' where his voice cannot handle the depth and the bassoon completes his melody line instead.
A good measure of spoken-word dialogue enhances the sense of dynamism and moves the plot forward at a rapid pace. The playful music and light humour of Zar und Zimmermann promise you a delightful classical evening at the Volksoper Wien!