Manon, Opera by J. Massenet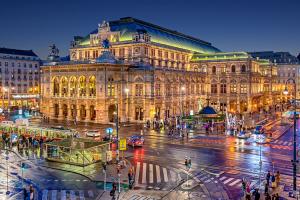 It would be easy to dismiss the relevance today of Jules Massenet, a composer whose operas are unmistakeably infused with the spirit of the distant Belle Époque. But in Manon, his masterpiece, he created a work that transcended the era it was written in; premiered at the Opéra Comique in Paris on 19 January 1884, Manon remained in the company's repertory until 1959 achieving more than two thousand performances. It continues to enjoy revivals around the world, perhaps most notably the Vienna State Opera's 2007 production with Anna Netrebko and Roberto Alagna in the starring roles.
Massenet found his inspiration for Manon in Abbé Prévost's novel of 1731, L'Histoire du Chevalier des Grieux et de Manon Lescaut, a story that provided the source for several other works for the stage, including Giacomo Puccini's own Manon Lescaut, which followed Massenet's interpretation in 1893.
Extraordinarily, Manon almost serves as a morality tale for our own days; one that warns of the empty promise of consumerism, infused with three-dimensional characters that make complete sense to modern audiences. The young Manon, bound for the convent, is dazzled by the attractions of high society and falls for not one, but two men, des Grieux and de Brétigny, unable to distinguish between true affection and flattery. When des Grieux resorts to gambling to provide Manon with the lifestyle she craves, his luck at the table proves to be both his and Manon's undoing.
Featuring the naturalistic use of both spoken and sung dialogue that was a hallmark of opéras comiques, Manon now makes an eagerly anticipated return to the Wiener Staatsoper. Massenet's gift for melody can be heard throughout, but even more impressive is the way in which he so skilfully interweaves joy and sadness in this highly compelling musical drama.