Il ritorno d'Ulisse in patria, Opera by C. Monteverdi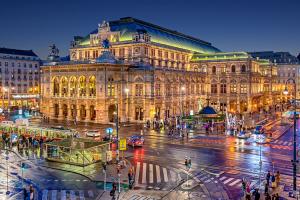 Vienna State Opera reaches way back to the beginnings of the operatic genre and dusts off a classic by Claudio Monteverdi. Il ritorno d'Ulisse in patria takes us back to the aftermath of the Trojan War and follows Ulysses on his way back home. The libretto by Giacomo Badoaro rested on the second half of the Odyssey by the Ancient Greek epic poet Homer. Monteverdi's taste for grand composition matched the mythological settings perfectly. The opera was first performed at Teatro Santi Giovanni e Paolo during the 1639-1640 carnival season in Venice. The success meant subsequent performances in Bologna, Venice again, and Vienna, after which the work dropped out of the repertoire until the 20th century when it enjoyed a number of revivals. Wiener Staatsoper brings Ulysses back home again.
In the final years of his life, Claudio Monteverdi penned several musical dramas, which would provide the next generations of composers with a clear blueprint of what we nowadays call 'opera'. Among these genre-defining efforts, Il ritorno d'Ulisse in patria was the first one. Monteverdi worked with established stylistic tools, such as the recitativo, but also implemented innovative elements, such as arias, duets, and ensembles. His approach to characterisation and emotional expression through distinct musical forms would prove programmatic for masters of opera ever since. While the vocal melodies and the prescribed inflections and performance styles may seem outlandish at first, they will quickly grow on you and reveal a world of carefully measured and defined feelings that only Monteverdi could determine.
The plot of Il ritorno d'Ulisse in patria, or The Return of Ulysses to his homeland, remains faithful to Homer's Odyssey. Rather than on his fantastical adventures, the work focuses on Ulysses' arrival on his home island of Ithaca where he finds three indolent suitors relentlessly wooing his wife, Queen Penelope, in an attempt to usurp his throne. With the help of faithful friends and his son Telemaco, King Ulisse defends his crown and celebrates the return to his loving wife and thankful royal subjects. In Monteverdi's distinct style, this epic story never ceases to impress.