Die lustigen Weiber von Windsor, Opera by Otto Nikolai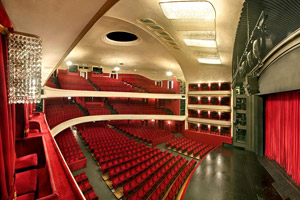 A classic comedy by William Shakespeare at its core, Otto Nicolai's singspiel Die lustigen Weiber von Windsor brings out the old-fashioned good times in spades. With a libretto by Salomon Hermann Mosenthal that closely follows the ideas of the Bard and a score filled with thrilling melodies and fiery recitatives, Nicolai's operatic take on The Merry Wives of Windsor has been a consistent presence in the repertoire since its premiere at Königliches Opernhaus Berlin on 9 March 1849. Though not an instant hit, the opera inspired a following and regular revivals in the decades to come and continues to draw belly laughs and sparkling gazes from audiences around the world. Volksoper Wien stages a production of Otto Nicolai's German-language masterpiece this season.
As its title suggests, Die lustigen Weiber von Windsor focuses on the lives, laughs, and little intrigues of several women based in the English countryside. Frau Fluth and Frau Reich each receive a love letter from Falstaff, a nobleman who has fallen on hard financial times. The two immediately hatch a plan to teach the double-timing suitor a lesson and proceed to invite him to a series of pre-ruined trysts. Meanwhile, the Reichs' daughter Anna is ripe for marriage, and three different gentlemen are vying for her heart. Herr and Frau Reich each have a favourite prospective son-in-law of status and good fortune, and yet Anna is in love with the modest youth Fenton who is not likely to please either parent. The merriment reaches a climax at a masked ball where nothing is what it seems and reality takes flight.
Even though it derives a good deal of appeal from its Shakespearean source text, Die lustigen Weiber von Windsor is an evergreen just as much thanks to Otto Nicolai's score. Playful and infectiously droll musical numbers intertwine with hushed and passionate spoken-word passages. The comical, romantic, and fantastic elements find their clever musical representations, and audiences at Vienna's Volksoper get to experience the authentic atmosphere of the Bard's Windsor and its merry wives.