Dialogues des Carmélites, Opera by Francis Poulenc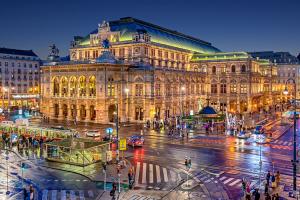 The French Revolution's indelible mark in human history has inspired countless artistic adaptations and interpretations. Glorious, inspiring, scary, and bloody all at once, it is full of gripping stories and singular events that, all bound together, make it an event larger than life. One such historical episode forms the basis of Dialogues des Carmélites, the dramatic opera with libretto and music by the French composer Francois Poulenc. Focussing on 16 Carmelite nuns who meet their demise during the Reign of Terror, the work explores themes of faith, ritual, violence, and stoicism. Poulenc's vivid musical language has given Dialogues des Carmélites remarkable staying power ever since its debut in Italian at La Scala in Milan on 26 January 1957 and in French – on 21 June 1957 in Paris. Wiener Staatsoper tells the Carmelites' gripping tale in Vienna this season.
The roots of Poulenc's opera go back to the German novella 'Die Letzte am Schaffot' (or 'The Last One at the Scaffold' in English) by Gertrud von Le Fort. Philippe Agostini created a screenplay for a TV production based on it, and Georges Bernanos was tasked with writing the dialogue for it. He did such a good job of it that Francis Poulenc was compelled to turn his dialogues into an opera, writing both the libretto and the score. The action is set in 1794 post-Revolutionary France, in the darkest times of the Reign of Terror when the guillotines worked around the clock. Our main heroes are 16 Carmelite nuns who refuse to renege on their faith and run afoul of the new power of the people. Tried and found guilty of counter-revolutionary activity, the nuns face brutal execution.
Despite – or perhaps exactly because of – its focus on convent life and Catholicism, Poulenc's Dialogues des Carmélites is a one-off experience. The composer's distinct musical language conveys the subdued emotion and noble suffering that come with religious devotion. Though the score uses a full orchestra, Poulenc cleverly varies the different sections and often has small groups of instruments accompany the vocalists to underscore the beauty and poignancy of their melodies. The final execution scene is especially haunting and effective, providing a fitting climax that audiences at Vienna State Opera are sure keep in their memory.