Cavalleria rusticana / Pagliacci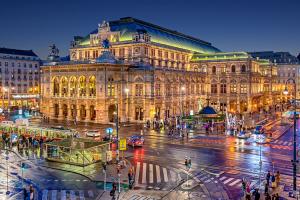 The very special operatic genre of verismo – truthfulness, realism – dominated in the late 19th and early 20th century. Two early gems of this movement were Cavalleria Rusticana by Pietro Mascagni and Pagliacci by Ruggero Leoncavallo. Both conceived in the early 1890s and driven by an intense, tragic plot centred on love and jealousy, the two short operas are often performed back to back. The Vienna State Opera thus hosts a real celebration of Italian opera realism with two of its defining examples in a classic double bill.
Pietro Mascagni created Cavalleria Rusticana (or "rustic chivalry" in English) to participate in Edoardo Sonzogno's competition for young composers in 1888. The three winners would have their operas staged in Rome free of charge. With only two months to go, Mascagni solicited a libretto from Giovanni Targioni-Tozzetti and Guido Menasci, and he made quick work of composing a powerful one-act score. The premiere at Rome's Teatro Costanzi on 17 May 1890 was an absolute triumph. The plot, borrowed from the play of the same name by Giovanni Verga, takes place in contemporary Sicily. The young Turiddu returns from army duty, only to find out the love of his life Lola has married the wealthy carter Alfio in the meantime. Heartbroken, he seeks solace in the arms of Santuzza, but his feelings for Lola do not. Chance encounters, jealousy, suspicion and revenge concoct a deadly cocktail, made all the more incendiary by Mascagni's intense and memorable music.
The success and impact of Cavalleria Rusticana inspired Ruggero Leoncavallo to create an opera vera of his own. From under his pen came both the libretto and the music for Pagliacci, another tragic and gripping tale of jealousy and betrayal. Framed as a play within a play, it follows Canio's troupe of clowns (or 'pagliacci' in Italian) who are putting on a performance for the Feast of Assumption in Calabria. The plot – a love triangle between Pagliaccio, his wife Colombina, and Arlecchino – mirrors the real-life affair Nedda and Silvio are having behind husband Canio's back. Increasingly full of rage, Canio/Pagliaccio insists that Nedda/Colombina reveal her lover's name. The lines between play and reality grow blurry, pushing Pagliacci towards a shocking finale. Together with Cavalleria Rusticana, it promises a most memorable experience at the Wiener Staatsoper.