La Juive, Opera by J. Halévy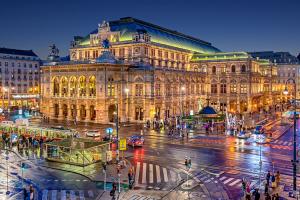 The love between a Christian man and a Jewish woman will not find universal acceptance even in the present day, so you can imagine how progressive and inspiring La Juive must have seemed at its premiere on 23 February 1835 at the Opéra National de Paris. With a libretto by Eugène Scribe and music by Fromental Halévy, both of them prominent artists of Jewish background, the grand opera challenges religious and social norms while cleverly using positive and negative cultural stereotypes. This season, the Vienna State Opera revives this opus of peace and universal understanding between religions - an evergreen subject and a powerful message at any point in history.
La Juive is set in 1414 A.D. at the start of the Council of Constance, a momentous occasion in Catholic history which ended the Great Schism and unified the church under a newly elected pope. The Jewish goldsmith Eléazar does not recognise the city-ordained holiday and continues working, which draws the ire of the locals. Only the arrival of Cardinal Brogni prevents a lynching. The goldsmith's daughter Rachel falls in love with the Jewish artist Samuel, not suspecting that he is in fact Prince Léopold, a war hero who led the Holy Roman Empire's troops to victory against the Hussites. Their affair puts the two lovers in serious danger: according to local law, Judeo-Christian romances are strictly forbidden and punishable by excommunication and death. The matter is further complicated by the fact that Léopold is married to Princess Eudoxie, who is a customer of Eléazar's and bound to uncover the illicit affair.
La Juive is one of several 19th-century dramatic works that explore the themes of interfaith relations, open-mindedness, and the senseless persecution of 'the other'. Halévy's dramatic score pushes these central themes to new heights, and arias such as Eléazar's Act IV solo spot 'Rachel, quand du Seigneur', are incredibly moving and powerful. Nearly two centuries later, Wiener Staatsoper's production of La Juive proves yet again that humanity still has a long way to go until true harmony between people and faiths will come to pass.