L'incoronazione di Poppea, Opera by C. Monteverdi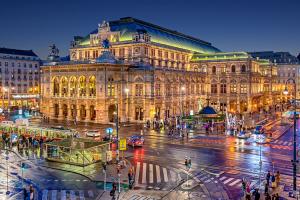 The Vienna State Opera gives you the chance to go back to the roots of the opera genre with a revival of L'incoronazione di Poppea by the great Claudio Monteverdi. Originally premiered at the Teatro Santi Giovanni e Paolo during the 1643 carnival in Venice, the work provides a unique view into the origins of opera. Monteverdi's musical invention and talents make the experience all the more exciting. Only a few transcriptions survived over the centuries until the late 19th century when the piece garnered renewed interest. Since then, scholars take deep dives into the score and theatres around the world regularly stage revivals that thrill audiences without fail. This season, take a trip back in time with the Wiener Staatsoper!
L'incoronazione di Poppea (or The Coronation of Poppaea in English) is a special opera in many ways. It was Monteverdi's last stage work and arguably also his best. The libretto was unique in its treatment of real historical figures and events, masterfully told by Giovanni Francesco Busenello. Scholars and audiences alike praise the opera's narrative and musical qualities. Full of rich and inventive melodic lines and character-specific musical motifs and soundscapes, the work is programmatic for the further development of opera as genre. The action is dynamic and fast-paced, as Busenello took historical events that unfolded over months and packed them into one single fateful day. Contrary to the expectations of such an old piece, L'incoronazione di Poppea offers a veritable rollercoaster of dramatic events and musical directions that has definitely stood the test of time.
The opera's plot focuses on the ascension of Poppea from a mere courtesan to wife of Emperor Nero and thus Empress of Rome. Along the way, the ambitious young woman crushes many fates, including famed Roman philosopher Seneca and the then-Empress Ottavia. The improbable success of the courtesan is framed by a debate between the gods and goddesses of Fortune, Virtue and Love who seek to measure their powers over human thought and action. Pointing to the rapid rise of Poppea to the throne, Cupid proves yet again that love reigns supreme. In Monteverdi's masterful interpretation, this lesson is more than apparent!