Concert & Dinner VIP Ticket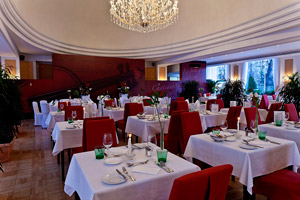 Life should be made up of special moments. In Vienna, an exquisite evening of dinner and music in the city's magnificent Kursalon will leave you with memories that you will cherish for years to come.
The Kursalon, the centrepiece of Vienna's Stadtpark, together with the golden statue of Johann Strauss Jr., draws many thousands of visitors to this beautiful part of the city every year. Originally conceived as a spa, the Kursalon was commissioned by Emperor Franz Joseph I to provide a fitting antidote to the fortifications it replaced. But Vienna's citizens would soon flock to the Kursalon for another reason: music; a tonic for the soul rather than the body.
A year after it opened, in 1867, the first concert was played there, with the compositions of Johann Strauss Jr. taking center stage. The Kursalon became the talk of the town, the place where Viennese society would meet to dance to the tunes of The Waltz King.
Today, the Kursalon's resident orchestra, the Salonorchester Alt Wien, offers a programme that does not just celebrate the brilliance of Strauss, but performs his compositions just as Strauss did in his day. No conductor, with Strauss himself leading the orchestra from the violin.
The icing on the cake for lovers for classical music, at its most joyful, is that the Kursalon's musicians do not only play Strauss but also the most popular compositions of Strauss' compatriot, and for many the greatest musician the world has ever known, Wolfgang Amadeus Mozart.
The Concert & Dinner VIP Ticket includes the Salonorchester's performance in the exquisite surroundings of the Kursalon's Lanner Hall and a delicious three-course dinner in the venue's elegant Restaurant Johann, which you can enjoy before or after the concert. This, together with a souvenir programme of the concert, glass of sparkling wine in the interval, and a CD of Strauss' effervescent music to take away with you once the night is over make this an occasion you will never forget.
Concert and Dinner VIP ticket include:
Three course menu (excluding beverages)
Reserved VIP seating
1 glass of sparkling wine during the concert intermission
Johann Strauss' CD
Concert programme