La Fille mal gardée, Sir Frederick Ashton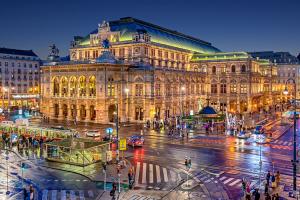 La Fille mal Gardée (The Wayward Daughter) is a landmark work in the history of ballet. It received its premiere in 1789 at the Grand-Théâtre in Bordeaux a matter of days before the French Revolution and in many ways changed ballet as much as that cataclysmic event went on to transform the entire European continent; it was the first ballet to base its narrative on recognisable, contemporary characters rather than looking to ancient Greece, Rome or royalty for its protagonists.

Originally devised by the Grand-Théâtre's Master of Ballet, Jean Dauberval, the Vienna State Opera is the stage for the version made famous by the British choreographer, Sir Frederick Ashton, first performed in 1960 at the Royal Opera House in London's Covent Garden.
Played to Ferdinand Hérold's 1828 score, with additional music by John Lanchbery, La Fille mal Gardée is a tale of two young lovers, Lise and Colas, who see their plans for their engagement thwarted by Lise's mother, Widow Simone. She has her own ideas as to who her daughter should marry: her preference is Alain who is wealthy, but little else.


The ballet is inspired by a bucolic vision of the English countryside. Ashton's interpretation combines moments of pure beauty such as the ribbon pas de deux between Lise and Colas with others of laugh-out-loud pantomime hilarity such as those provoked by Widow Simone's clog dance.
La Fille mal Gardée is an astonishing fusion of a host of folk dances with the steps of classical ballet. It may be lighthearted and full of comedic touches, but it is also one of the most inventive works in the genre.