The Sleeping Beauty, Ballet by P. I. Tchaikovsky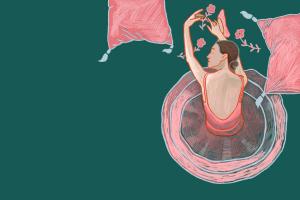 Nowadays, Piotr Ilyich Tchaikovsky is regarded as a master of the ballet genre, but during his lifetime, his unique sense for wrapping drama and dance into emotionally charged music did not earn widespread recognition. Perhaps this was the reason he left us only a few ballets, yet each one of them is regarded as a timeless classic today. The Sleeping Beauty, based on the beloved fairy tale 'La belle au bois dormant' by Charles Perrault, is among those stellar numbers that are instantly recognisable and define Tchaikovsky's musical legacy. The original production debuted on 15 January 1890 at the Mariinsky Theatre in St Petersburg. This season, the Vienna State Opera stages the classic ballet with the choreography of dance legend Martin Schläpfer.
When he was offered a commission from the Mariinsky Theatre, Tchaikovsky was still bruised by the critical and popular indifference to his previous ballet Swan Lake. The subject for the new work was originally supposed to be Undine, the fantastical tale of the water spirit who marries a mortal man, yet the source quickly shifted to Charles Perrault's story of the cursed princess whom only true love's kiss could save. Legendary ballet master Marius Petipa took over choreographer duties and showered Tchaikovsky with exhaustive lists of instructions and requirements. Despite this pressure, the composer worked with great speed and gusto to produce the score's backbone and to flesh out the main themes of the two opposing characters: the good Lilac Fairy and the evil Carabosse, each with her distinct musical theme. The premiere brought Tchaikovsky much warmer accolades than Swan Lake, but the composer did not live to see the amazing global success The Sleeping Beauty would achieve over the next decade.
Martin Schläpfer's choreography for this classic Tchaikovsky ballet reflects his great respect and love of the original, combined with his trademark knack for almost cinema-like staging and action. His reverence to Tchaikovsky and Petipa's masterpiece makes The Sleeping Beauty at Wiener Staatsoper a remarkable experience.