Peter Pan, Ballet by Vesna Orlic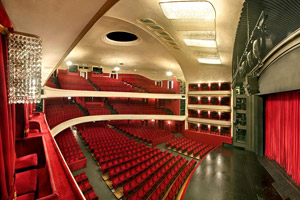 There is nothing that compares to the innocence and joy of childhood. The seemingly endless energy, the sense of wonder at each new encounter and the excitement of pushing boundaries are simply unique to that often happiest of times. For children of all ages, Vesna Orlic celebrates these inimitable experiences with her ballet adaptation of the timeless Peter Pan, the story of the boy who refuses to grow up. Her modern choreography and wonderful concept come to life on the stage of the Vienna Volksoper.
To reimagine the famous tale of Peter Pan for the ballet stage, Serbian-born ballerina and choreographer Vesna Orlic can fall back on her extensive fairy tale dance experience. As a soloist at the Vienna State Opera and the Volksoper Wien, she has danced the lead parts in such classic stories like Coppélia and A Thousand and One Nights. For the Peter Pan ballet, Orlic develops a lively and entertaining choreography that is fully in line with the main character's proclamation, "I am youth! I am joy!", as guests of the Volksoper Wien can testify.
The choreographer also takes on the role of music director, along with Gerald Stocker, providing a close interaction between music and dance. The score is courtesy of a group of composers, and the pieces were assembled together especially for this performance.
The story of the free-spirited rebellious boy Peter Pan who can fly and does not want to grow up was penned by Scottish author J. M. Barrie. Leading his Lost Boys on the imaginary island of Neverland, he gets up to all kinds of adventures, first documented in Barries's play Peter Pan, or The Boy Who Wouldn't Grow Up (1904) and later given the full novelist treatment in Peter and Wendy (1911). Working with the rich legacy of the beloved character, Vesna Orlic crafts a ballet that is entertaining and endearing for children, adults, families and ballet lovers alike.