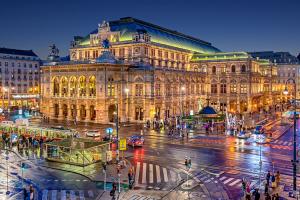 Liebeslieder brings together the visions of three outstanding 20th-century choreographers and makes for a varied and impressive triple threat in the best traditions of the Vienna State Opera. Jerome Robbins, Lucinda Childs, and George Balanchine have left an indelible mark on modern ballet with their intimate knowledge of classic dance and the bold innovations they brought into it. Three major American choreographers' distinct styles, backed by the music of beloved European composers, blend into an evening of pure awe and joy.
The programme opens with "Other Dances", the 1976 ballet performance Jerome Robbins created especially for Natalia Makarova and Mikhail Baryshnikov at New York City Ballet. Backed by Frédéric Chopin's emotion-laden piano compositions, this pas de deux easily ranks among the most romantic and enthralling ballets of the modern era. Robbins' classical influences shine through, along with his own Romantic tendencies and flourishes. At Wiener Staatsoper, "Other Dances" features live piano accompaniment, giving it a unique touch.
"Concerto" by Lucinda Childs comes next with its memorable exploration of how repeated dance sequences evolve through different contexts. By creating a piece entirely based on geometric patterns and rhythmic repetition, Childs explores ballet's hypnotic qualities. Since its 1993 Lisbon premiere, the dance piece has become a modern favourite, also thanks to the equally mesmerising score for harpsicord and strings courtesy of Polish composer Henryk M. Górecki.
Finally, "Liebeslieder Walzer" by the great George Balanchine completes the evening's programme and brings audiences back into the Romantic atmosphere of a Vienna ballroom – right at home at the Staatsoper! With the musical accompaniment of "Liebeslieder-Walzer", op. 52 and "Neue Liebeslieder", op. 65 by Johannes Brahms, the 1960 dance performance features four couples whose connection and passion find a beautiful expression through melody and movement. The music is performed live by a soprano, alto, tenor, and bass with piano accompaniment. Taken together, the three ballet pieces present an American declaration of love to dance that the Vienna State Opera happily receives.