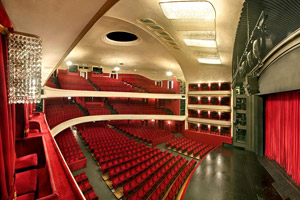 Kontrapunkte is a ballet triple threat that features modern classic dances by a trio of international heavyweights. The diverse choreographic gifts of Anne Teresa De Keersmaeker, Merce Cunningham, and Hans van Manen flow together into one coherent heterogeneous mixture of counterpoints that ends up being a celebration of music and dance. On the noble stage of Volksoper Wien in Vienna, each of these segments acquires a life of its own.
The evening begins with 'Die Große Fuge' by renowned Belgian choreographer Anne Teresa De Keersmaeker. Originally performed in 1992, the piece for eight male dancers explores the many ways in which dancers can defy gravity, if only momentarily. The musical backing is courtesy of Ludwig van Beethoven and his String Quartet, op. 133, and it matches De Keersmaeker's inventive choreography with bold melodies that drive the movement forward.
Next come the 'Duets' by American dance master Merce Cunningham whose intricate rhythms and precision have long established him as one of the modern classicists of 20th-century ballet. Set to 'Improvisation III' by John Cage, the piece features six pairs of dancers who explore classical and modern dance forms and patterns against a polyrhythmic percussive background. 'Duets' was first performed in 1979 and remains an audience favourite to this day.
'Four Schumann Pieces' by Dutch choreographer Hans van Manen rounds off the evening. Originally created for London's Royal Ballet in 1975, the dance performance explores the emotional states of man through music, movement, and different encounters. Melancholy, longing, solitude, passion, and fear all find their intriguing expression. In the classic van Manen style, the dancers explore the stage space and let the music flow through them, embodying their hearts' states candidly and beautifully.
Kontrapunkte at Volksoper Wien combines the unique styles of three modern choreographers into a performance that thrives on contrasts. Counterpoints between but also within each segment will keep audiences in Vienna engaged and excited throughout this special evening.