Jewels, Ballet by G. Balanchine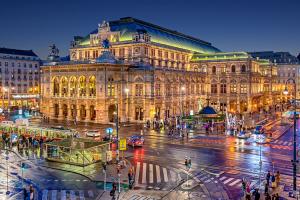 "All that glitters is not gold," the old adage says, and, thinking of George Balanchine, we might quip, "True; sometimes the glitter is emeralds, rubies, and diamonds!" This, of course, is just a reference to Balanchine's celebrated three-act ballet performance Jewels. It brought the New York State Theater to standing applause when it premiered there on 13 April 1967, and it has not lost any of its glorious shine ever since. Acclaimed as the dance master's first-ever abstract ballet, Jewels now graces the stage of the Vienna State Opera with its glamorous glimmer.
George Balanchine, a legendary American choreographer with Georgian roots, was noted for his keen musicality and close relationships to many leading composers of his time. Each of the three acts of Jewels relies on one famous name in classical music to provide the tonal landscape, upon which the bold choreography can rest. Act I, 'Emeralds', takes extracts from Pelléas et Mélisandre and Shylock by the influential French composer Gabriel Fauré. Act II, 'Rubies', relies on outtakes from Igor Stravinsky's Capriccio for Piano and Orchestra, well-known for its virtuoso keyboard passages. The final Act III, 'Diamonds', is driven by Symphony No. 3 by Pyotr Ilyich Tchaikovsky, sans its first movement. In such formidable musical company, Balanchine's abstract choreography is even more impressive.
Jewels is a truly special contemporary ballet not only due to its choreographer's gifts or its stunning musical selection. Each of the three acts comes with its distinct clothing designs, originally crafted by Barbara Karinska. An award-winning stage costumer, Karinska famously combined visual appeal and movement ergonomics in her designs. Her artistic costume design work played a pivotal role in the early success of Jewels, and her sartorial philosophy resonates in perfect unison with George Balanchine's avant-garde choreographic choices. All the elements flow together to form an instant modern dance classic, which feels right at home at the stately Wiener Staatsoper.