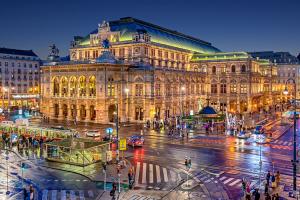 With Goldberg-Variationen, Vienna State Opera presents a special ballet double feature, where both halves are based on monumental pieces of music that a famous choreographer paired with dance. Part one is 'Tabula Rasa' with music by Arvo Pärt and original choreography by Ohad Naharin. Part two gives the whole performance its name and features the famous 'Goldberg Variations' by Johann Sebastian Bach, which Heinz Spoerli first turned into a ballet performance in the 1990s. Together, the two works explore the fundamentals of the human condition in music and movement and make a powerful pairing.
The evening begins with 'Tabula Rasa', based on the composition by Arvo Pärt of the same name. The Estonian minimalist composer first presented this concerto for two violins, prepared piano, and string chamber orchestra in Tallinn on 30 September 1977. Pärt's creative usage of free melody and repeating triads makes for exciting polyrhythmic passages that are often followed by subdued moments where one instrument takes the lead with minimal accompaniment. The piece's musical quality makes it an excellent pairing for a ballet choreography that matches the accents, crescendos and diminuendos of the score, and Naharin does it justice. The 'Tabula Rasa' ballet debuted in performance of the Pittsburgh Ballet in 1986 and has been somewhat of a hidden gem ever since.
Next come the famous 'Goldberg Variations', a main theme with 30 variations that Bach composed on commission by Count Kaiserling of Saxony. The result not only pleased the Count tremendously, but it also became a gold standard in keyboard composition. The choreography by Heinz Spoerli captures the score's vivacity and transports it into dance sequences that explore human nature and the situations, in which we act differently and yet remain fundamentally the same. Spoerli's 'Goldberg-Variationen' was first performed on 7 March 1993 at the Deutsche Oper am Rhein in Düsseldorf, and its emotional intensity keeps captivating audiences till present day.
Together, the two parts of the ballet performance Goldberg-Variationen at Wiener Staatsoper make for an exciting musical, dance, and emotional journey to humanity itself.