Begegnungen, Ratmansky / Kaydanovskiy / Schläpfer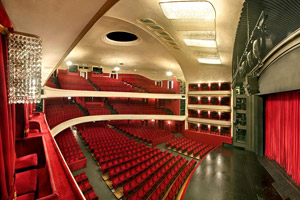 Throughout its rich history, Volksoper Wien has always welcomed modern genres and innovative artists. The triple ballet performance Begegnungen ('Encounters' translated from the original German) demonstrates the theatre's affinity for the avant-garde. Three leading contemporary choreographers each present one notable work of theirs and let their unique styles flow together into an evening that celebrates diversity, innovation, and the beautiful unity of music and movement.
The evening opens with '24 Préludes' by Alexei Ratmansky, a work he created for London's Royal Ballet in 2013. In it, he pays tribute to the great British 20th-century dance tradition of Antony Tudor and Frederick Ashton. Against the emotional music of Frédéric Chopin, Ratmansky explores various moods and relationships in ballet form. Eight dancers take turns expressing primal emotions and sharing the stage in explosive, visually impressive encounters. One of contemporary dance's big names, Ratmansky's notable career stations include Bolshoi Ballet in Moscow and the American Ballet Theatre in New York City.
Next comes 'Uraufführung' (or 'Premiere' in English) by Andrey Kaydanovskiy. A long-time dancer at the Vienna State Ballet, the Russian-born artist is also branching into choreography. His dance works have graced stages around the world, including Prague, Moscow, and Munich. In 'Uraufführung', Kaydanovskiy teams up with Tyrolean jazz musician and composer Christof Dienz to study the boundaries of imagination, fact, fiction, and abstraction. An artist and his muse chase each other and circumscribe a generous open space, full of bold movement and musical invention.
The evening's closer is entrusted to Martin Schläpfer, the director and principal choreographer of the Vienna State Ballet. In his work 'Transformed into sunshine', he lets his dancers paint a mellow and harmonious picture of tenderness, tranquil confidence, and steady progress. As musical accompaniment, Schläpfer picks Piano Concerto No. 4 by Ludwig van Beethoven. The vivid, triumphant G-Major melodies flow in perfect harmony with the delicate yet determined choreography and bring the sunshine metaphor to life. Thus ends Begegnungen at the Volksoper in Vienna, a special celebration of modern ballet with three of its most creative minds.