Appassionato - Bach & Vivaldi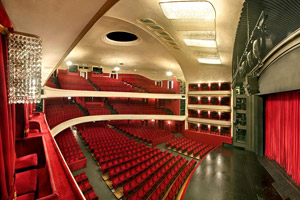 Appassionato – Bach and Vivaldi is a captivating triple ballet feature courtesy of the Vienna State Ballet. On the stage of the Volksoper in the Austrian capital, the three choreographers Boris Nebyla, Eno Peci and Martin Winter display their boundary-pushing dance performances set to the music of Antonio Vivaldi and Johann Sebastian Bach. The choreographers lean on both the musicality and personalities of the two famous Baroque composers in order to synthesize exciting and compelling narratives that are both personal and universal.
Boris Nebyla tackles the exciting biography of Antonio Vivaldi, the brightest name in Italian Baroque. The mini-ballet's title 'Il Prete Rosso' (Italian for 'The Red Priest') refers to Vivaldi himself. He was ordained as a priest in 1703, and his hair's naturally reddish colour earned him that nickname. On the wings of the composer's own tunes, Nebyla relates a series of scenes set in Venice's carnival and Vienna to reveal his admiration for Vivaldi and to search for another, unknown facet of the Italian Maestro's personality and genius.
Eno Peci's 'Monkey Mind' offers an exploration into the power of the mind. Set to the stern yet elevating music of Johann Sebastian Bach, the performance takes audiences through the mad rush of stage fright and the immutable source of calm and strength that lies within each of us. Even in the face of great danger or tremendous stress, the mind can deliver peace and composure, and Peci crafts a compelling showcase of its virtually limitless potential.
Martin Winter returns to the music of Vivaldi at its most famous example: The Four Seasons. His spectacle 'Not Another Now' takes Max Richter's 2012 version of the seminal work of Italian Baroque as its musical basis. From there, Winter explores the hidden symbolism in Vivaldi's work and gives the different outtakes allegorical meanings. He chooses to personify Life, Death and Love, and presents them stunningly in musical and dance form.
With Appassionato – Bach and Vivaldi Volksoper Wien pushes three of its promising choreographers into the spotlight. They definitely have a lot to show!