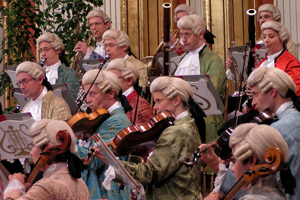 Hearing a little Mozart in Vienna is a joy at any time, but the Vienna Mozart Concerts offer music lovers a unique opportunity to enjoy a truly special cultural experience. Each event features the Vienna Mozart Orchestra, together with internationally famous soloists, presenting a select programme of Mozart's finest music. To further enhance each occasion, the artists dress in wigs and historical costume of the period, and every effort is made to recreate the authentic style and atmosphere of the popular Musikalische Akademien (musical academy concerts supported by public subscription) of Mozart's day. To further complement the magical ambiance, audiences can choose to attend Vienna Mozart Concert performances staged at any of Vienna's three most prestigious music venues: the Vienna State Opera, the Musikverein and the Konzerthaus.
Founded in 1986, the core of the Vienna Mozart Orchestra consists of professional musicians from the top Viennese orchestras and chamber ensembles. United by a common desire to promote and celebrate Vienna's rich musical heritage, these artists regularly join forces to perform symphonic chamber music from the Viennese Classical Period. And just like their 'academy' predecessors of the 1780s who shared concert platforms with Wolfgang Amadeus Mozart himself, these acclaimed virtuosi are guaranteed to draw 'an absolute tempest of applause' from discerning enthusiasts fortunate enough to hear jewels from the maestro's repertoire performed in an exquisite setting.
Vienna Mozart Concerts remain faithful to the ethos of those first academy subscription concerts, and thus the audience can expect to hear a varied programme full of iconic masterpieces such as the popular 'Là ci darem la mano' Zerlina/Don Giovanni duettino; the world-famous 'Allegro' from 'Eine kleine Nachtmusik'; and perhaps also the darker shading of the 'Molto Allegro' from Mozart's Great G minor symphony (No. 40).
Extract of the Programme:
Duet Zerlina - Don Giovanni: Là ci darem la mano
Symphony No. 40 in G minor, KV. 550 - 1st movement: Molto Allegro
Papageno's Aria: Der Vogelfänger bin ich ja
A Little Night Music, KV 525 - 1st movement: Allegro
Symphony No. 34 in C major, KV 338 - 1st movement: Allegro vivace
Duet Papageno - Papagena
Figaro's Aria: Non più andrai
Violin Concerto No. 5 in A major, KV 219